Shubhasree Banerjee MD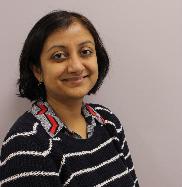 Specialties:
Rheumatology
Location:
Albany Office
---
Dr. Shubhasree Banerjee is a board certified rheumatologist who has received numerous awards and recognition for her research in the rheumatology specialty. Dr. Banerjee practices at our Albany location.
Dr. Shubhasree Banerjee was board certified in internal medicine by the American Board of Internal Medicine in 2013. In 2016, she became board certified in Rheumatology. She also has a Doctor of Medicine in Biochemistry from the India Institute of Medical Sciences in 2009 and a Bachelor of Medicine and Surgery from The Kolkata Medical College in 2005.
Awards and Honors
Awardee of Outstanding Research Award from Rheumatism Society of the District of Columbia, 2017 Fellows Forum
Awardee of the 2016 Fellows-in-Training ACR/ARHP Annual Meeting Travel Scholarship
Awardee of the 2015 Fellows-in-Training ACR/ARHP Annual Meeting Travel Scholarship
Star Fish award for compassionate and empathetic care of patients and families, Overlook Medical Center, 2013
Publications
• Banerjee S, Grayson P. Vasculitis Around the World: Epidemiologic Insights into Causality and a Need for Global Partnerships. J Rheumatol. 2017 Feb;44(2):136-139. Invited editorial
• Banerjee S, Biehl A, Gadina M, Hasni S, Schwartz DM. JAK-STAT Signaling as a Target for Inflammatory and Autoimmune Diseases: Current and Future Prospects. Drugs. 2017 Mar 3. doi: 10.1007/s40265-017-0701-9. Invited review article
• Banerjee S, Ann Biehl, Maryam Ghadheri, Zerai Manna, Sarfaraz Hasni. Low Incidence of Opportunistic Infections in SLE Patients Treated with Cyclophosphamide and Steroids in a Tertiary Care Setting. Medical Research Archives. Vol 5, No 3 (2017): Vol.5 Issue 3, March 2017
• Banerjee S, Megha Sawhney, Michael Ward. Persistent Localized Acquired Hypertrichosis after Open Reduction and Internal Fixation of Olecranon Fracture in an Elderly Woman- Submitted
• Bielory L, Dutta Choudhury S, McMunn A. Bepotastine besilate for the treatment of pruritus. Expert Opin Pharmacother. 2013 Dec;14 (18):2553-69.
• Choudhary AK, Andrabi R, Prakash SS, Kumar R, Dutta Choudhury S, Wig N, Biswas A, Hazarika A, Luthra K. Neutralization potential of the plasma of HIV-1 infected Indian patients in the context of anti-V3 antibody content and antiretroviral therapy. J Microbiol. 2012 Feb;50 (1):149-54. Epub 2012 Feb 27
• Dutta Choudhury S, Chaudhury AK, Kalra R, Andrabi R, Wig N, Biswas A, Bala M, Luthra K. Antiretroviral drug resistance mutations in the reverse transcriptase gene of HIV-1 isolates from Northern Indian patients: a follow-up study. Arch Virol. 2010 Apr;155 (4):563-9. Epub 2010 Feb 24.